Memories of Geoff
Every now and then I get an email from someone who knew Geoff and has another artwork I can add to the website. The most recent contact was from Geoff's friend, Paul Alway, who sent the following photos and information about the amazing chess sets Geoff Holt created in the late 1960's.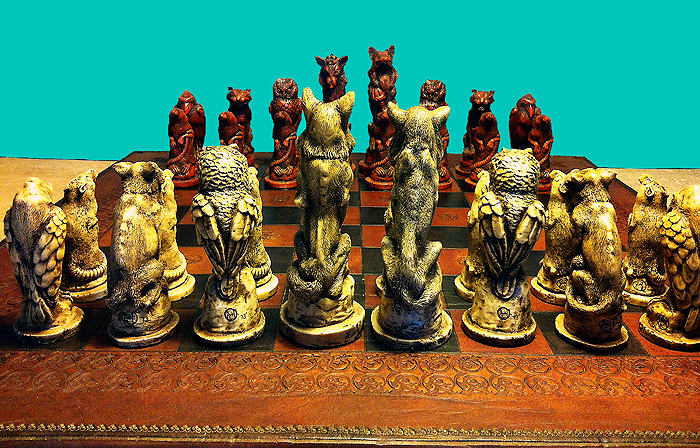 Geoff Holt: Chess set, originally hand crafted in clay, they were then moulded in resin and were sold with a hand carved leather board.
| | |
| --- | --- |
| | |
| Geoff Holt: White and Red Chess Kings | Geoff Holt: White and Red Rat Chess Pawns |
Paul Alway: "There were very few complete sets in the end, Geoff had a lot of trouble with the originals, as the clay would often break during firing and then the moulds taken came off with air bubbles etc or would split when taken off the resin, so it became a long process to get a completed set. I bought mine from Geoff in mid 1974, and it was said that Oliver Reed also had a set. The king stands at 19cm tall, a pawn 11cm and the board measures 77cm square."
Denis Holt, Geoff's younger brother: "These small art remnants are very early pieces. Here's Geoff's first commission for a business friend. The friend complained bitterly about being charged 20 pounds for it!"
| | |
| --- | --- |
| First Commission: Geoff Holt | |
Denis Holt: "I brought an old A55 van from the same business friend. His commission so inspired Geoff, he resolved to try and sell his paintings on the Bayswater railings. So, very early that Summers morning in 1966 we loaded up the van with paintings, and found a spot on the rails to hang them. There were some nasty territorial rows in those days, but I defended the patch!

We worked the rails that whole summer, along with Mike Worrall, Ric Hyde and Lina Eve, who created this tribute website. She and John Eve were selling their handmade jewelry on the rails at the time. Most of Geoff's early paintings sold from the railings. I remember delivering a wonderful painting called "Helms Deep" from Tolkien, to the Hilton hotel for an American. Sadly, no images of that painting have been located yet"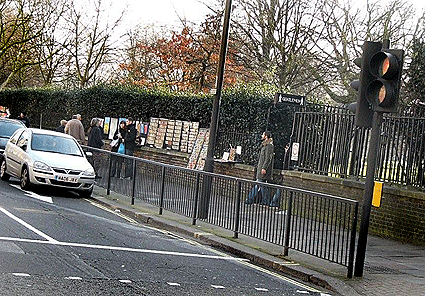 Railings at Bayswater where Geoff used to dispay his work. Photo: Denis Holt
"Our family lived in a prefab houses in Balham and Tooting from around 1949 -1955.Both areas consisted of large, war displaced families. Geoff left our Chetwode road in his late teens."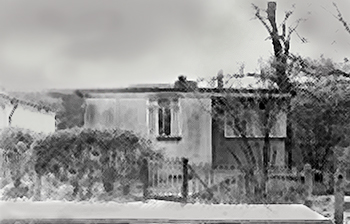 Typical prefab 1950's house.
Sue Holt, (Geoff's widow): "The painting below was of the River Exe, which was at the bottom of the field outside our house in Tiverton Devon, Geoff used to walk our dog Billy there every day. We used to play with Billy in the river in the summer."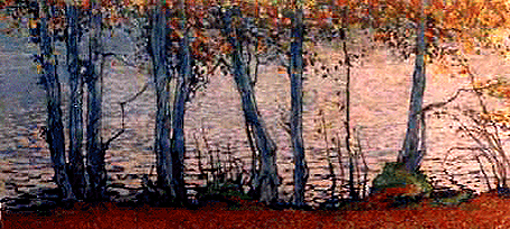 "Riverbank scene" Geoff Holt
Brenda Townsend Hall, (Poet and Geoff's sister in law)
"Elegy"
"The colours you lived
Were the vivid
Golds of the sun
The deepest blues
Of the midnight sky.

Your views hewn from stone
Or the brittle slate
Never yielded
Or split asunder
Beneath life's harsh blows.

And when death's sombre
Shades sought to taint
The joyous tints
And zestful hues
Of your rainbow love

You painted your last, most lovely, portrait,
In whose birth you shed such a glow of light."
See video of Geoff Holt's work: http://www.youtube.com/watch?v=YKuYYiDQOzU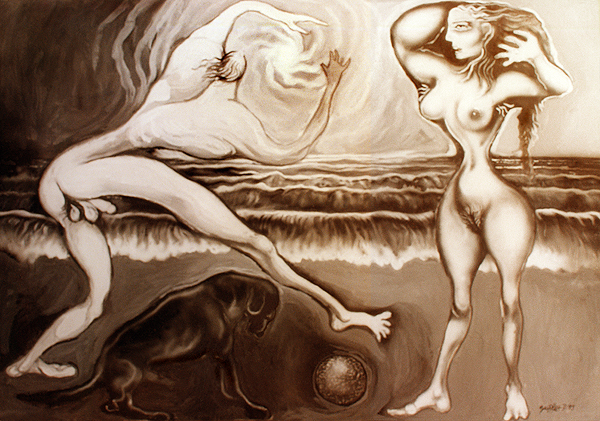 This is the Geoff's last painting.
All images copyright Geoff Holt 1998 (unless otherwise stated)