Biography: Geoff Holt, 1942 ~ 1998
"Geoff Holt was born on the 30th July, during the Second World War, in Wokingham, near Surrey. The 2nd of three sons, he grew up in impoverished circumstances in South London. His exceptional talent was spotted at secondary school where one of his teachers gave him his first set of real paints - a box of water colours.
At 14 he attended the Camberwell School of Art on a special scheme for gifted youngsters run by the London County Council. He left at 18 and was offered, but rejected, a place at the Slade School of Fine Art.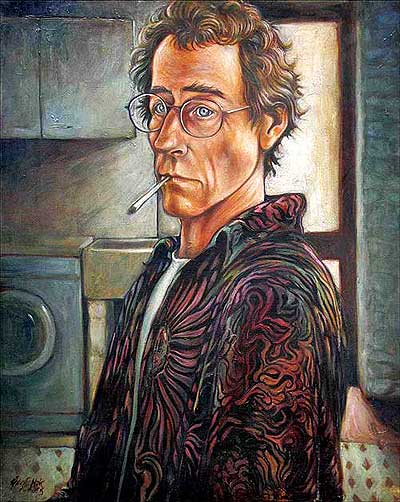 "Self Portrait" Geoff Holt
Geoff always wanted to paint and said there was nothing else he could do. However he did many odd jobs to supplement his often sporadic income as an artist, working as a bingo caller, night worker in a jelly making factory, after school club leader, ambulance driver, interior decorator, stall holder, and candle maker, etc.
Geoff did not fit easily into the art world, always feeling an outsider. However he was quite pleased when he was elected to the Chelsea Arts Club in 1980s. Geoff never wanted to be pigeonholed and chose his style of painting to fit his subject matter, rather than forcing his style on the subject.
Geoff was an extraordinarily compassionate and kind person who loved to encourage others to achieve their dreams. He was always generous with his time and money, even when he was short of both.
He struggled for many years with bipolar disorder and smoked voraciously. In his one self portrait he is smoking, and there are few photographs of him without a cigarette in his hand. He tried many times to quit but also said smoking kept him alive - he used to say there were times when if he had not had a cigarette to calm him down and make him think, he probably would have killed himself. He died aged 55 from lung cancer.
Geoff started selling his paintings on the railings in Queensway, London. From there he mostly sold privately and through commission. He was passionate about his painting and about his favourite artists - Botticelli, Cranach, Durer and Van Gogh and he also admired the artisty of the old Walt Disney movies.
Geoff married twice and is survived by his first wife, Mary and their daughter Emma, and by Sue, his 2nd wife, their son Felix, and adopted son Ben.
Geoff Holt's father was George Edward Holt who was a fire fighter with the Pioneer Corps during WW2. His mother, Irene Winifred Holt, (nee Miatt) worked as a cleric with RACS after the early death of her husband. Holt's maternal grandfather Ernest Miatt, was a craft bookbinder and self-taught calligrapher and draughtsman."
(Sue Holt 2008)

| | |
| --- | --- |
| "Sue" Geoff Holt | |

and from his long time visionary artist friend, Mike Worrall............

"I would like to take this opportunity to add my bit in memory of my dear friend Geoff Holt. We first met in about 1966 when he and I were hanging our paintings on the railings on Bayswater Rd, Kensington Gardens, opposite Queensway. Here was this bloke with enormous paintings on display. I was completely bowled over by them! I mean, people just didn't bring serious stuff like that onto the railings. I was in a position to know, as I had been using the railings there and at Green park for a number of years on and off. So I was impressed!

I got to know Geoff and his friend Rick Hyde, and we got on like a house on fire. Geoff and I were born in the same year, 1942, and we both had very similar ideas on what & how we wanted to paint. Visionary, Surreal, Fantastic Art. It was great to find someone who was so inspirational and you got on with as well. We would often have a good RANT all night long about ideas & art etc. (RANT being Geoff's favourite word & pastime) I would often stay with him and Mary, his then wife, & little Emma their daughter, in East Acton.

I was living in central London in small a room somewhere, and invariably broke, the same as they were. I'd just turn up on their doorstep, and they'd give me a warm welcome. Mary would invite me to share the main meal with them, and I'd frequently stay the night.

In the late 70s, after he & Mary had split up, Geoff came and stayed in the same house I was squatting in at Hammersmith. We were in our element. I had just split from my girl of 3 years, and there was no one to keep us in order, no one to boss us around! We took advantage of this unusual situation with great enthusiasm! There were many liquid lunches spent around the corner in the Builders Arms discussing what we were going to paint etc, then we would move down the river to the Blue Anchor ... well, that's right, there wasn't much actual art done most days!

That situation lasted only a couple of months before Geoff was rescued by Sue, saving him from a slippery slide into depravity. By this time I was feeling the effects of Geoff unchained, and was not ungrateful, but it was time for my own recovery too. Geoff hated living on his own, and didn't function too well by himself. He needed someone to look after him, and someone to look after. But they were great times, I just wish I could remember them in more detail!

It was good to see Geoff and Sue so happy together. I moved to New Zealand in 1981, and we managed to keep in touch over the next 2 decades until his death in 1998. Unfortunately the distance meant I would only phsyically see him about 3 times, as I'd met Margie and moved to Australia, and started a family. I remember the huge enthusiasm with which Geoff embraced the Fax machine. He said, "We can now talk with drawings!" Every time I saw him, it was as if no time had passed. We were both still on the search for that elusive, perfect "something". He will remain my soul brother and it saddens me very much that he is gone.

What wonderful paintings had Geoff still to do? And how sad for Sue and Felix who was only 6 months old when his father died. Geoff and I were always going to have a joint show... but it never happened. He is often in my thoughts, when I'm painting or driving my boys around, when I'm gardening, and as I talk with Sue or others who knew him, in a sense he's still alive in us.

Geoff was, and is, a great artist in the true sense, and I can still vividly picture his work, although I have few actual photos of it. I am lucky to have a sunflower painting of his and I look forward to seeing more of his art on this web site as, and when, it comes to light, as there is a lot of it out there somewhere! Geoff, I still miss a GOOD RANT!! Bless you friend."

Mike Worrall, 2008 "http://www.mikeworrall.com"

"Requiem for my Friend" Mike Worrall